Cursores lampada tradunt: on the occasion of the hundredth anniversary of the birth of Hans H. Ørberg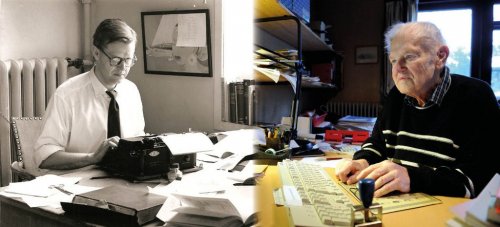 On Tuesday 21 April 2020, starting at 4 p.m. (GMT+2, Rome), and until 8 p.m., a meeting will be held, with numerous participants from various countries, on the occasion of the centenary of the birth and ten years since the death of the Danish Hans Henning Ørberg (1920-2010), the creator of the "nature method" for teaching Latin. The meeting aims to retrace the steps that led to the creation of this methodology, showing its main points and characteristics, illustrating its teaching effectiveness and highlighting its international diffusion, also with the testimonies of teachers from all over the world: a real "marathon" in honour of the creator of a masterpiece of glottodidactics.
Coordinators: Luigi Miraglia, Ignacio Armella Chávez and Özséb Áron Tóth.
Participants will include, among others, teachers, representatives of cultural and educational institutions and teachers' associations from:
Argentina, Belgium, Bulgaria, China, Croatia, France, Germany, England, Italy, Mexico, Netherlands, Czech Republic, Russia, Spain, United States... and many others.
The program, full of surprises, will be published on this page on Monday, April 20.
This meeting will be held in Latin; speeches in other languages will be translated simultaneously.
This initiative is part of a series of free training meetings that our Academy, together with the "Liceo M. T. Cicerone − Frascati", intends to offer to teachers who are facing this difficult moment for the school with courage and dedication. However, it remains open to anyone interested in the subject.
New members will be accepted until 13 p.m. on the day of the conference. Please note that registration requires approval, so you will have to wait until you receive a letter of confirmation.
You can access the meeting through the Zoom platform by filling in the form that you will find following this link: register here
For additional information and questions: convegni@vivariumnovum.net.
---